Harker Heights Herald
Moose Lodge Hosts Belly Dancers, Buffet to Benefit Cancer Patient
Mike McClafferty is fighting the good fight against cancer.
The Vietnam War veteran recently had surgery to remove a kidney with Stage 2 cancer when it was found during a routine MRI. "I went in for one thing when they found this, so I was lucky," McClafferty said.
But he's not fighting alone. More than 100 people attended Moose Lodge 2179 in Harker Heights for a benefit on Sunday to support McClafferty, the lodge administrator, and raise money and cancer awareness.
 "These folks surprised me with this event; it's wonderful," he said.
Within two days, event coordinator Michelle Walton organized everything from food to getting items donated by local businesses for the auction.
"The proceeds will go to The American Cancer Society and Moose Heart, a family organization that supports underprivileged youths," Walton said.
Guests made donations for the chicken buffet, as well as paid for a chance at bidding on the auction. More than 20 auction items lined the tables, including meals from Texas Roadhouse and Old Chicago, plus cooking and camping supplies.
A special treat was entertainment by five members of Caravan Boheme Belly Dance Troup. They swayed their hips and swirled across the floor to hypnotic rhythms of music returning smiles from the thrilled crowd.
The Sunday shimmy was yet another local nonprofit event the troupe loves to support. "This one is a perfect example of us giving back to the community through our dancing,"said Janet Adams, troupe director.
Adding his donation to the dancers' tip jar was lodge member George Barron, who said the lodge is a close-knit group that always supports each other.
"This was a great way to do something to help Mike and the community," Barron said.
The sound of pool balls breaking echoed throughout the lodge, but only one of the five tables was pink. Its color designates it as the cancer pool table. Even before McClafferty was diagnosed with cancer, the lodge had the table painted pink with the names of all types of cancer printed on it, like lung, bladder and throat and breast cancer among others.
From January 2017 through October 2017, all the proceeds from that table will be donated to The Cancer Research Center in Temple.
By end of the day, the event raised close to $500 said Casey Noble, junior governor.
"It was big success today," he said. "We all had a great time and are glad to see the love from everyone to support Mike."
************************************************************************
Copperas Cove Banner
Janet Adams started taking ballet lessons when she was four years old and dreamed of becoming a classical ballerina, until Mother Nature stepped in and redirected those ambitions. "Once I reached puberty, I basically realized that I'm just not that willowy, lanky, ballerina body type – and I wasn't going to live off of leaves and water the rest of my life so that I could be that. I love food too much," Adams said, laughing.
(read more at the link)
Killeen Daily Herald
****************************************************************************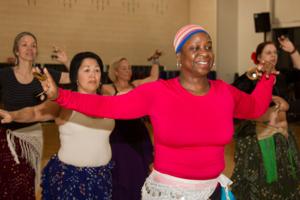 (credit: Amy Proctor)
Angela Patterson-Young dances at the Advanced Tribal Bellydancing class on January 11 in the Central Texas College gymnasium.
It's mesmerizing to watch the waving, graceful arms float through the air with swaying hips making the colorful shirts swirl around the women's waists.
 Every movement flows into the next; it's earthy and fluid.
"Belly dance is an ancient art form that celebrates the beauty, strength and sisterhood of women," said Vicky Mitchell, president and founder of the Central Texas Belly Dance Association.
Mitchell started the group at her Harker Heights kitchen table in 2008 after years of belly dancing to help promote confidence.
"Women are last on the family totem-pole, so we do this for us," Mitchell said.
Today the association has 24 members in four troupes, Maidens of Mystery, Mystic Silk and Caravan Boheme and Forte.
Often the troupes perform free at local events, like Hood Howdy, Copperas Cove Rabbit Fest and Shimmy Mob, that benefits Families in Crisis.
Soon the association will "unveil" its World War II boogie woogie piece in Austin and then later locally at its annual Hafla, or dance party.
"Belly dance is for everyone; it's fun and empowering,"said Janet Adams, classically trained in ballet and director of Caravan Boheme. Adams is one of the belly dance instructors through Central Texas College's Continuing Education program.
At a recent class, she called out instructions as dancers followed her movements swirling across the floor to hypnotic rhythms of music, laughing and cheering each other.
Beaming her trademark ear-to-ear smile, Angela Patterson-Young said she takes both the beginner and advanced classes. "If you have hangups about your body, belly dance will get rid of them," she said.
The dancers range in age from 15 to 60-plus, and many have personal, and sometimes painful stories that led them to belly dance.
LaToya Gaston started taking classes after a car accident as part of her rehab. "The movements are slow, so it stretches my hips gently," Gaston said.
Six years ago Michelle Barnwell stopped taking dance classes due to arthritis, but she lost 100 pounds and triumphantly returned two months ago.
"My teacher said I've still got it," she said.
A dancer all her life, Yvonne Imergoot was taught belly dance by an Army wife-friend in 2007, and clung to the sisterhood during difficult times.
"Once I thought I was too heavy or had too many stretch marks, but I don't care about that anymore; I just love it," said Imergoot, vice president of the association.
Sabina Fundling, instructor of the beginning class, also takes the advanced class. "I enjoy seeing women blossom, and become more comfortable with themselves."
But behind the coin-lined scarfs, veils and all that fun is a lot of skill that takes time to learn.
"You won't get belly dancing in one lesson," Mitchell said. "It's a journey of art, of dance, of joy and of womenhood."
For more information, contact Mitchell at vmkhaliqa@gmail.com.
*****************************************************************************************************
Copperas Cove Leader Press
Tue, 2015-09-01 05:00
News Staff
Caravan Boheme performed a variety of gypsy style belly dances at Stoney Brook Assisted Living in Copperas Cove Sunday at 2 p.m. Caravan Boheme is a dance  group made up of members from the Central Texas area including Copperas Cove. Janet Adams (dancing name Vadoma) is the director of the student troupe at CTC.